Pack of 20 sewing needles - Size 3/9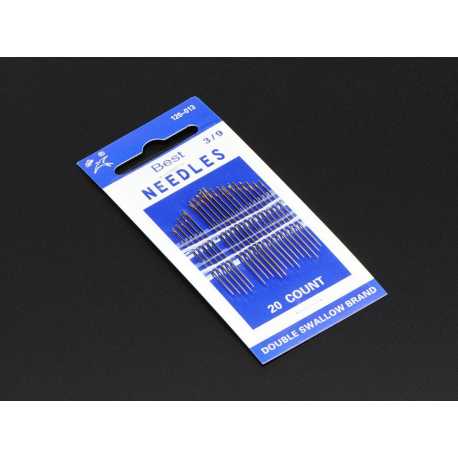 Pack of 20 sewing needles - Size 3/9
ADA 615
data-lang="en">
A set of needles for sewing your e-textiles or socks!
Customers who bought this product also bought:
More info
Description
Powerful needles to sew like the wind! This needle set is the only one you'll need for all kinds of hand sewing, especially for our wire and compatible electronic parts.

Each pack contains 20 golden eye needles, with eye sizes ranging from #3 (1.75 "long) to #9 (1.35" long). The two #3 (the larger ones) are too big to fit through the sewn-in battery holder but are also easy to use for sewing. The four #9 (smaller ones) are a bit difficult to use with normal wire. The remaining 14 needles are perfect for use with our 2-ply stainless steel wire, 3-ply stainless steel wire or stainless steel thin wire.
Features
2 x #3 needles (0.04" x 1.75") (1mm x 45mm)
6 x #5 needles (0.0375" x 1.65") (0.95mm x 42mm)
8 x #7 needles (0.035" x 1.55") (0.9mm x 39mm)
4 x #9 needles (0.027" x 1.35") (0.7mm x 35mm)