5 X LED Sequins - Ruby Red - Adafruit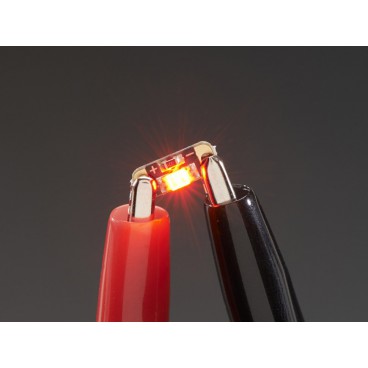 Customers who bought this product also bought:
More info
Description
These LED modules are ideal for twinkling your e-textiles projects, because they are easy to sew and boasts exceptional brightness. These are the modules to the example of the Flora Neopixel but with a single color, cela rens smaller and easier to sew and use.
Just feed them between 3V and 6V on the PIN + and connect to ground terminal - and the LED lights up. It even possible to make them sparkle grace in PWM driving through a card GEMMA or FLORA.
LED Seguins modules are teams led to the 1206 package and a series of 100 ohm resistor, which gives a consumption of 5mA under 3, 3V, so it is possible to connect 4 or 5 in parallel on a single pin of a microcontroller.
Sold per pack of 5 LED Sequins - Ruby Red
Features
Power supply: 3V to 6V
Consumption: 5mA led under 3, 3V
Size: 4mm x 9mm /.16 "x 0.35"
Thickness 0.7 mm
"The holes are 7 mm / 0.28"
Color: Red Ruby