Spool of thread medium 3 strands stainless - 9 m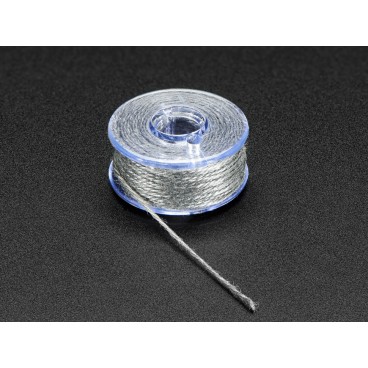 Customers who bought this product also bought:
More info
Presentation
The Arduino Uno is based on the ATmega328 microcontroller.
It has 14 digital input/kinds (of which 6 can be used as PWM outputs), 6 inputs analogue, a 16 MHz quartz oscillator, a USB connection, a power jack, an ICSP connector, and a reset button.
It contains everything needed to fly the microcontroller, simply connect it to a computer with a USB cable to use it simply.
Uno differs from all previous Arduino in the fact that it does not use the FTDI USB-serial converter. Instead, it has an Atmega8U2 programmed as a USB-serial converter.
This 316L thread lies somewhere between the thin wire to wire thick and al most machines Coudres would be happy with this thread there. However it has a gentle "Furry" appearance, which is not ideal for the application of e-textlies in conjunction, but ideal for gloves driver grac to its gentle appearance and its high conductivity.
Features
Eppaiseur 0.4 mm

3 wire strands.

Resistivity 1 ohms per inch


Length: 9 m
Accessories
A coil of thin wire 2 strands to achieve electronic sewing e-textile.

A coil of thin wire 3 strands to achieve electronic sewing e-textile.