Flora Wearable Ultimate GPS Module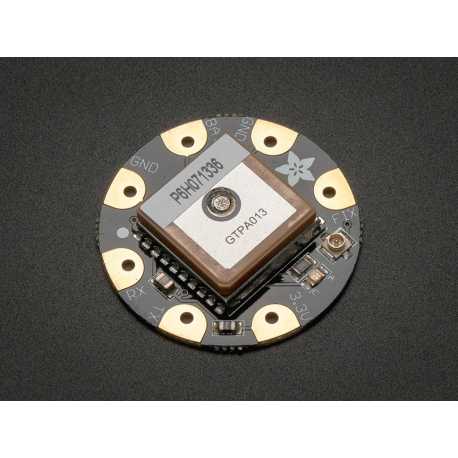 More info
Description
Give a position sensor to your e-textile projects based on Flora. In 2013, Adafruit designed the Ultimate GPS module to meet most GPS needs, and now they have adapted it for the Flora series of maps. This Flora Wearable Ultimate GPS Module allows you to get an accurate and sensitive GPS position while being in low power mode. In addition, this module keeps an accurate clock synchronized with satellite time.

Here are some characteristics:


Sensitivity of up to 165 dBm with updates at 10 Hz and up to 66 channels.
Only 20 mA consumption
Built-in PSTN module (add a battery to use it)
Integral Datalogging Mode
PPS ("Pulse per second") output on a pin
Built-in patch antenna and uFL connector for external antenna
Status LEDs
The Flora Wearable Ultimate GPS Module is designed from the MTK3339 chipset, a high quality GPS module capable of tracking 22 satellites on 66 channels, with an excellent receiver (-165 dBm sensitivity) and an integrated antenna. It can provide 10 rentals per second at high speed, and even log them in. Power consumption is extremely low with only 20mA during navigation.

The MTK3339 has an external antenna connector. Even if it has a built-in patch antenna with a sensitivity of -165dBm, you can connect a larger 3V active antenna via the uFL connector. The module will automatically detect if an antenna is connected and will switch to it.

The module is sold assembled and tested.
Features
Satellites: 22 monitored, 66 channels
Patch antenna size: 15mm x 15mm x 4mm
Update frequency: from 1 to 10 Hz
Position accuracy: < 3 meters (like all standard GPS)
Speed accuracy: 0.1 m/sec
Cold/hot start: 34 seconds
Acquisition sensitivity: -145 dBm
Follow-up sensitivity: -165 dBm
Maximum speed: 515m/s
Power consumption MTK3339:25mA in tracking mode, 20 mA in navigation mode
Output: NMEA 0183,9600 baud by default
DGPS/WAAS/EGNOS support
FCC E911 compatible and AGPS support (Offline mode: EPO valid for up to 14 days)
Up to 210 channels PRN
Interference detection and reduction
Multi-path detection and compassing
Weight: 5,43g
Dimensions: 30.5mm Diameter x 5.98mm Thickness / 1.2" Diameter x 0.24" Diameter
Documentation