Spool of thread thin 3 Strand stainless - 18 m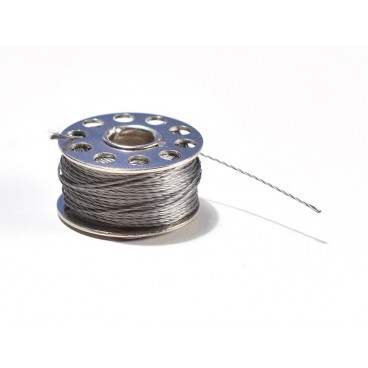 Customers who bought this product also bought:
More info
Presentation
The Arduino Uno is based on the ATmega328 microcontroller.
It has 14 digital input/kinds (of which 6 can be used as PWM outputs), 6 inputs analogue, a 16 MHz quartz oscillator, a USB connection, a power jack, an ICSP connector, and a reset button.
It contains everything needed to fly the microcontroller, simply connect it to a computer with a USB cable to use it simply.
Uno differs from all previous Arduino in the fact that it does not use the FTDI USB-serial converter. Instead, it has an Atmega8U2 programmed as a USB-serial converter.
This thin thread bobile 3 strands is ideal to achieve e-textile, electronic clothes because this thread is thin, strong, smooth and entirely in stainless steel 316 L. This thread is a little thicker than the polyester or cotton threads that you wear every day, but it is thin enough to be sewn by hand with needles to middle hole, or with a sewing machine capable of managing very thick wire.
This thread has a low resistivity with 10 ohm by feet and you can use it to control LEDS or other components which consume less than 100 my. Beware, this thread is pretty steep compared to wire money, but it is much less additional, especially for washing.
Features
Thickness 0,25 mm

3 wire strands.

Resistivity 0.83 ohm per inch


Length: 18 m