Adafruit GEMMA V2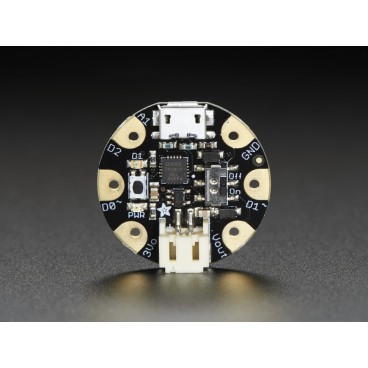 Customers who bought this product also bought:
More info
Presentation
The Adafruit GEMMA map is a smaller version of the map Adafruit FLORA, with only 28 mm in diameter.
It is compatible with the Arduino IDE, and it is directly programmable thanks to its micro-USB port.
Adding a switch ON / OFF with the v2 and micro-USB connectors.
It is possible to weld the Adafruit GEMMA pines, but also sew them with wire to create clothes that are connected.
Features
Micro-controller: ATTiny85

Nominal supply voltage: 5V

Consumption: 9mA

GPIO:. 3 including 2 PWM and able 1 analog acquisition

Possibility of acquiring I2C/SPI

Flash memory: 8 KB including 2.75 KB for the bootloader

SRAM: 512 B

EEPROM: 512 B

Clock frequency: 8 MHz

Connectivity: MicroUSB
Documentation
Documentation Adafruit GEMMA: http://learn.adafruit.com/introducing-Gemma/introduction
Datasheet of the ATMEL ATTiny 85: http://www.Atmel.com/devices/attiny85.aspx
Data sheet
| | |
| --- | --- |
| Micro-contrôleur | Attiny85 |
| Micro-contôroleur - Horloge | 8 MHz |
| SRAM | 512 B |
| Flash | 8 KB |
| EEPROM | 512 B |
| Entrées/Sorties numériques | 3 |
| Tension logique (GPIO) | 3,3V |
| PWM | 1 |
| Entrées analogiques | 1 |
| Alimentation nominale | 5V à 16V |
| Connectique pour chargement | micro USB |