Ethernet FeatherWing for Feather card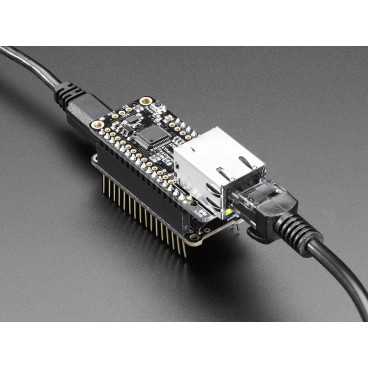 Customers who bought this product also bought:
More info
Description
The wireless link are fabulous, but sometimes you need a reliable and robust connection. If your Assembly has a Feather, this FeatherWing Ethernet card is ideal to quickly add an Ethernet connection. Simply plug in an Ethernet cable and use the Ethernet2 bookstore to dispose.
Ethernet protocol is supported basic hubs with switch because it's a physical connection and you need not configure an SSID or password to connect. It works with all the Feather maps and it has a WIZ5500 controller that communicates through an SPI affair with a thread of CS. The Arduino Ethernet2 library works perfectly with this FeatherWing, it takes a few seconds to use it after the connection, thanks to the implemented DHCP protocol. The RJ45 connector has status LED that indicates the State of the link and if there is traffic on the line.
This FeatherWing ets sold assembled and tested, with a connector type male not welded.
Features
Size: 59.2 mm x 22.8 mm x 17.5 mm / 2.3 "x 0.9" x 0.7 "

Weight: 10.0 g / 0.4 oz