Small Plastic Project Enclosure - Weatherproof with Clear Top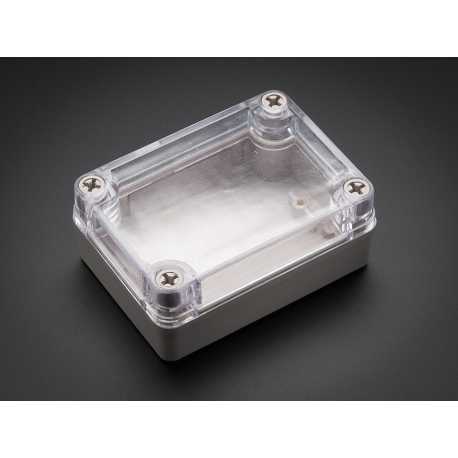 Small Plastic Project Enclosure - Weatherproof with Clear Top
ADA 903
data-lang="en">
A small case with transparent lid for your projects.
Customers who bought this product also bought:
More info
Store your project safely in this beautiful weatherproof box with a transparent lid. We chose this box because we like the machinable ABS plastic body and the durable clear polycarbonate cover, the integrated gasket and the easy open screws that can be removed as many times as you like without cracking or stripping.

This box measures 80mm x 110mm x 45mm outside. You can install a Perma-Proto of half size inside if you cut or sand a corner of a few millimeters, or an Arduino. It is not suitable for an Arduino Mega, Beaglebone, Menta or Minty Perma-proto.
Caractéristiques
Note : The two (2) threaded inserts at the inside base of the case are approximately 8mm high. If the base of your card/project does not rest between the threaded inserts, the adjusted height of the entire housing is 30 mm.

exact weight : 134.41g
80mm x 110mm x 45mm / 3.2" x 4.4" x 1.8" exterior size
IP66 weather protection rating
The internal mounting inserts are threaded M4.
Accessories
A ball to design your own DIY electronic snow mud.