Mini Oval Speaker - 8 Ohm 1 Watt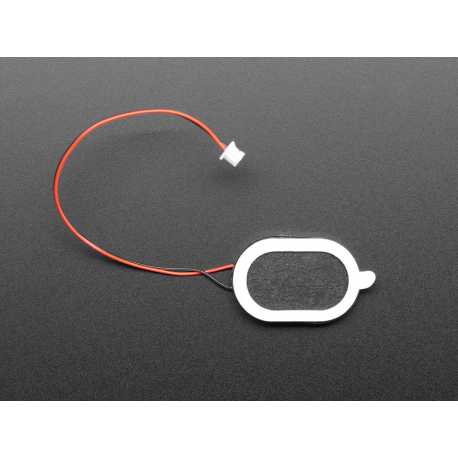 Mini Oval Speaker - 8 Ohm 1 Watt
ADA 3923
data-lang="en">
A small oval loudspeaker 8 ohms 1 Watt.
Customers who bought this product also bought:
More info
Listen to the good news! This small speaker is an excellent complement to any audio project where you need an impedance of 8 ohms and a power of 1 W or less. We particularly like this speaker because it is small and comes with pretty thin wires with a connector at the end. It is equipped with a convenient 2-pin 1.25 mm "Molex PicoBlade" cable, which makes it easy to connect to a card. Or you can cut the connector and simply solder/clamp directly on the wires.

This speaker will work perfectly with the HalloWing M0 Express - it even clicks into the built-in speaker connector. But you can also use it with any of our mono audio amplifiers, such as the PAM8302 or MAX98357A mono class D amplifiers.

Technical details

Speaker weight: 1.4g
Dimensions: 30 x 20 x 20 x 5mm
Cable length: ~110mm
Connector: Molex #0532610271, 1.25mm pitch "PicoBlade"

Translated with www.DeepL.com/Translator
Accessories
A small speaker pre-wired for your audio applications.

A two speaker kit to add stereo to your audio editing.

An ideal 4 ohms 3W speaker for your audio project.