STEMMA Cable - 150mm/6" Long 4 Pin JST-PH Cable–Female/Female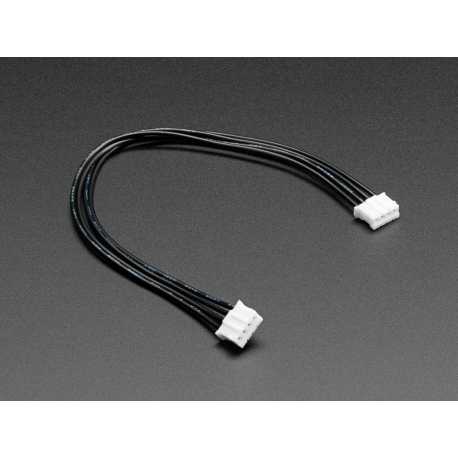 STEMMA Cable - 150mm/6" Long 4 Pin JST-PH Cable–Female/Female
ADA 3568
data-lang="en">
A 150mm long STEMMA cable with 4-pin female JST-PH connectors
Customers who bought this product also bought:
More info
This 4-wire cable is just over 150 mm long and is equipped with 4-pin female JST-PH connectors at each end. These types of JST cables are commonly used on small rechargeable battery packs, RC receivers and transmitters, small cameras and other small electronic devices.

We use them to connect STEMMA cards, the connector is compact but durable, it remains connected even when moved, but is easy to insert and remove.

We like the solid and compact nature of these connectors and the latch that prevents the cable from coming off easily. The 4 wires are 26AWG wired and the connectors have a 2mm pitch.
Technical details

Product dimensions : 177.0 mm x 10.0 mm x 10.0 mm x 4.0 mm / 7.0 in x 0.4 in x 0.2 in

Product weight: 2.2g / 0.1oz




Accessories
An extension cable JST - PH 2 pine trees to the steps of 2mm with a length of 500mm.

A set of 2 connectors 4 points JST SM 2.5mm male and female pre-wired.

A 2 point pico blade pre-wired 200mm pico blade connector.