Two speakers - stereo - 3W 4ohms Kit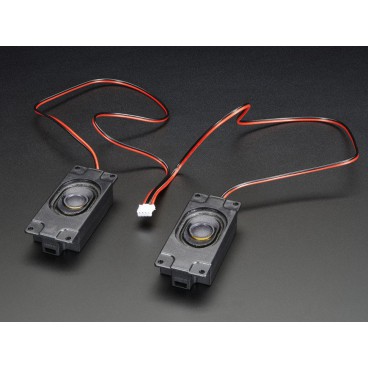 Two speakers - stereo - 3W 4ohms Kit
ADA 1669
data-lang="en">
A two speaker kit to add stereo to your audio editing.
Customers who bought this product also bought:
More info
Description
This two 2.8 "x 1, 2" speakers kit is ideal for ideal to add sound to your projects. They have an impedance of 4 ohms with 3W of power. We particularly like these speakers because they are compact and have a good sound reproduction. The speaker deus have a compatible connector JST - PS 4 points at the end of the cable.
Features
weight: 25g per speaker
Dimensions: 30mm x 70mm x 17mm / 1.2 "x 2.8" x. 7 "
the cable measures 30 "long in total, evening 15" by speaker
3.1 mm mounting hole diameter
Editing rectangle: 24mm x 64mm
Accessories
A small MAX98306 base amp to give power to your audio editing.

An amplifier I2S 3W class D MAX98357A for Raspberry PI or Genuino Zero based.

A small speaker pre-wired for your audio applications.