JST SH 4-Pin Cable - Qwiic Compatible - 100mm Long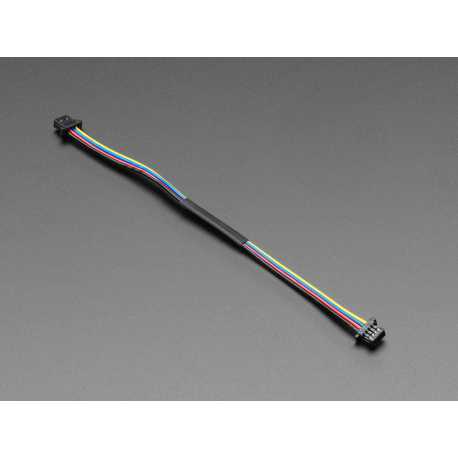 JST SH 4-Pin Cable - Qwiic Compatible - 100mm Long
ADA 4210
data-lang="en">
A 100mm Qwiic compatible 4-point JST-SH cable.
Customers who bought this product also bought:
More info
This 4-wire cable is just over 100 mm long and is equipped with 4-pin female JST-SH connectors at both ends. Compared to the coarser JST-PH, they have a pitch of 1 mm instead of 2 mm, but always have a good locking feeling, while being easy to insert and remove.

This cable can be used with Qwiic cards, to easily connect sensors and drivers from one card to another. The cables are symmetrical, so don't worry about which side goes where! When used with Qwiic, the colors are:

Red - Power supply 3.3VDC
Black - Mass
Blue - I2C SDA Data
Yellow - I2C SCL Clock Clock
Accessories
A 150mm long STEMMA cable with 4-pin female JST-PH connectors

A 200mm JST PH 4-pin cable to 4 male pins.