Audio amp class D Stereo 3, 7W - MAX98306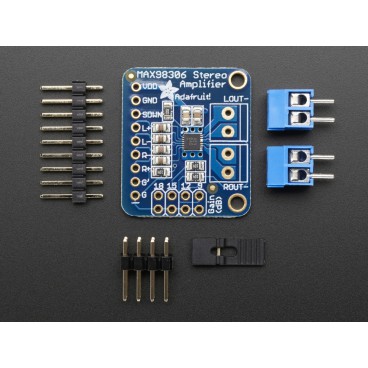 Customers who bought this product also bought:
More info
Description
This little amp stérao is amazing by its power and quality, capable of delivering 2 x 3, 7W on speaker in 3 ohms to inped. The small circuit inside, we find an amplifier class D capable of operating between 2, 75V and 5, 5V. The class D amplifier is powerful with a yield of 90% when he pilots the speaker 8 ohm 1W, perfect for mounting on battery powered. It has a thermal protection and overload current, but beware, this circuit can become very hot during use.
The inputs of the amplifier passes through 1µF capacitors and work in differential, if your input isn't in differential, then connect R - and L - to the mass. the outputs are floating, this means that it must be connected to the mass but directly to each speaker.
The output is a PWM wave square of 360KHz which is then 'averaged' by the speaker coil - high frequencies are not heard.
Sold assembled and tested. Provides with its strap and a connector strip 1 X 9, a 2 X 4 connector to select the gain, and 2 screw terminals to connect the speakers. The speakers are included, it will use speakers with an impedance greater than 3 ohms.
Features
Output power: 3.7W at 3Ω, 10% THD, 1.7W to 8Ω, 10% THD, with a 5V power supply

High PSP 83dB to 217Hz

5 selectable by jumper gain: 6dB, 9dB, 12dB, 15dB and 18dB.

Excellent click-and-pop suppression

Thermal and overload protection current

Low power consumption: 2mA at rest and in old mode 10uA