Adafruit CRICKIT FeatherWing for any Feather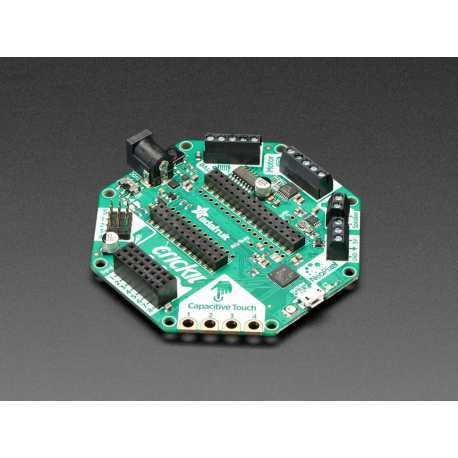 Customers who bought this product also bought:
More info
Sometimes you wonder if robotics engineers watch movies. If they had, they would know that making robots into slaves always ends in robot rebellion. Why go down this path? At Adafruit, they think we should make robots our friends!

If you need a companion, think of the robot. They are fun to program, and you can be creative.

It is in this spirit that Crickit - That's our Creative Robotics & Interactive Construction Kit was designed. It's an add-on to the popular Feather ecosystem.

Plug any Feather card into the center, and you're ready! The Crickit of an integrated Seesaw, the I2C bridge to any firmware. So you only need two I2C data pins to control the Crickit's large number of inputs and outputs. All timers, PWMs, sensors are discharged to the co-processor.

The only thing that is not handled by the seesaw is the audio output. We provide a small jumper that you can solder to connect the audio amplifier to the first analog pin. On the Feather M0, this is a true analog output (DAC) and you can play audio clips with CircuitPython or Arduino. The other feather may not have a DAC! In this case, you can solder a wire to bridge the audio amp to a PWM pin.

You can use all non-I2C signal pins on your feather and get an extra input/output pin load, motor controllers, capacitive touch sensors, a NeoPixel driver and an amplified speaker output. It complements and extends your Feather so you can always use all goodies, including FeatherWings stacking on top.

The CRICKIT card has:


4 x Servo analog or digital output, with 16-bit precision timer
2 x Bidirectional DC motor driver, limited to 1 amp each, with 8-bit PWM speed control (or stepper motor).
4 x "Darlington" 500mA high current drive outputs with bounce diode protection. For solenoids, relays, large LEDs.
4 x capacitive touch sensors with connection for crocodile clip.
8 x signal pins, digital input/output or analog inputs
1 x NeoPixel driver with 5V level switch - NeoPixels are buffered and controlled by the Seesaw chip.
1 x Class D speaker, 4-8 ohms, 3W-max audio amplifier - the audio input pin is available as a solderable pad for your configuration, you can connect it to the DAC or PWM output of your Feather as you wish.

All are powered by 5V DC, so you can use any 5V servomotor, DC motor, stepper motor, solenoid, relay, etc. For reasons of simplicity and safety, we do not support mixing voltages, therefore only 5V, not for use with 9V or 12V robotic components.

Please note that this robot card requires no soldering but you will need a power supply and a Feather to accompany the Crickit, and these are not included! We also recommend the purchase:


Any of our Feather cards, powered by an ATmega328p, ATmega328p, ATmega32u4, ATSAMD21, ATSAMD51, ESP8266, ESP32, WICED, nRF52, etc., can be used. All Feather will work, even with SD cards, LoRa radios, WiFi or BLE modules, etc. The Seesaw chip only uses I2C and all Feather cards have I2C pins in the same location.
Power supply 5V 2A
If you are going to operate more than 2 large motors or servos at a time, we recommend a 5V 4A power supply.

Since you will be working with high current devices, we wanted to have a good solid power supply system that minimizes the risk of damage. The power supply has an "eFuse" management chip which switches off automatically if the voltage exceeds 5.5V or is less than 3V and has overcurrent protection at 4A. Each motor conductor has return current protection. We think it's a beautiful and durable card for robotics!

Many more details, diagrams, specifications and code examples in the Adafruit Learn : Introducing Adafruit Crickit guide

Product Dimensions 82.0mm x 82.0mm x 15.0mm / 3.2" x 3.2" x 3.2" x 0.6".

Product weight : 35.4g / 1.2oz

Translated with www.DeepL.com/Translator