Soft Tactile Button (8mm) x 10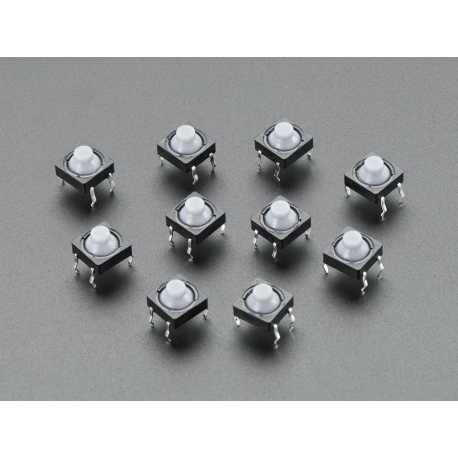 Soft Tactile Button (8mm) x 10
ADA 3101
data-lang="en">
One set of 10 soft touch buttons
Customers who bought this product also bought:
More info
Description
Put your project in stealth mode with these silent soft touch tactile buttons.

Touch switches are standard input "buttons" on electronic projects. These cards work best in a PCB but can be used on a breadboard. The pins are normally open (disconnected) and when the button is pressed, they are momentarily closed.

They are sold in packs of 10, they are very practical. These buttons are perfect for projects like PiGrrl, PiGrrl 2, PiGrrl pocket or PiGrrl Zero because elastomeric buttons are more pleasant to use than the default buttons. The activation force is not linear or documented, but a similar switch is listed as 120gf.
Features


Product dimensions: 7.8mm x 7.8mm x 4.9mm / 0.3" x 0.3" x 0.2".
Product weight: 0.1g / 0.0oz