Adafruit Feather Bluetooth 32U4 THE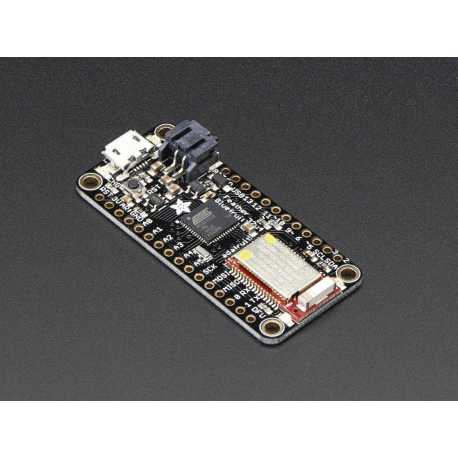 Customers who bought this product also bought:
More info
Description
The Feather is the new development card developed by Adafruit and as its name suggests, Feather pen in English means, it's small, light and can you raise! It was designed to establish a new standard of small microcontroller.
This version of the map Feather has a module bluetooth BTLE nRF51822 with management integrated with a micro-USB connector battery charge.
It is composed of a heart to the ATmega32u4 clocked at 8 MHz controller database. This circuit has 32KB of Flash and 2KB of RAM and a built-in USB epile which allows to program USB directly and even emulate a keyboard, a mouse, or even a MIDI enables.
In order to realize mobile montages, this has to a built-in JST connector card dedicated to batteries Lithium polymer 3, 7V with a charging circuit. If you do not need battery, simply feed it through the micro-USB connector. The Feather card will automatically switch between USB power and the battery if needed.
Features
Dimensions 2.0 "x 0.9" x 0.28 "(51mm x 23mm x 8mm) without connectors"

Light as a (large) feather - 5.7 g

ATmega32u4 @ 8 MHz with 3.3V logic

Exit 3, 3V with a regulator 500 my

USb supported natively, with interviews and port bootloader series USb for debug

20 x GPIO pins

Support hardware for series, I2C, and SPI

8 PWM capable pines

10 x analog entries

Built-in charger 100mA LiPoly with led charge indicator

PIN # 13 cable on LED blinking red.

Controllable power supply via Power Enable

4 mounting holes

RESET button
Sold tested and assembled.
Programming embedded in the Arduino IDE.
Documentation