Adafruit Motor/Stepper/Servo Shield for Arduino - v2.3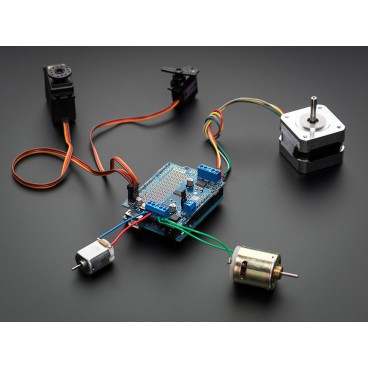 Customers who bought this product also bought:
Sliding scale pricing
| Product | From (qty) | Price |
| --- | --- | --- |
| Adafruit Motor/Stepper/Servo Shield for Arduino - v2.3 | 10 | 21,55 € |
More info
Description
This shield is ideal to drive 4 Motors 2 stepper motors or continuous.
Rather than use bridges: L293D type double, is a MOSFET TB6612 that are used and that allows to have 1.2 has by channel and same 3A at the forefront. There mointe of pride of tension, which allows to have a couple more quickly and it has integrated protection diodes.
Instead of use the output PWM of the Arduino board, this shield has of its own PWM circuit which is more controlled in I2C, this allows you to use this shield just with 2 SDA and SCL pins.
This shield has 5 addresses selectable to plug up to 32 on the same Arduino shields, or up to 64 stepper motors or 128 Motors continuous.
A polarity protection FET is also present on the external power line and a prototyping area will allow you to add personal items.
Features
2 connectors dedicated to the servo on the pines D9 and D10
4 bridges in H to TB6612 database: 1.2 by bridge, 3A peak with thermal protection, protection diode, that can power engines between 4, 5V and 13, 5V DC.
Up to 4 Motors continuous with a selectable 8-bit speed
Up to 2 Motors step by step (unipolar or bipolar) with single or double coil
The engines are automatically turned off in case of power failure
Terminal block screws of large diameter that can accept 18 to 26 AWG cable
RESET button of the arduino deported on the shield
Power external via Terminal block or jumper and protected against polarity inversion
Compatible Arduino UNO, Leonardo, ADK/Mega R3, Due, Diecimila and Duemilanove. Also works with ARduino Mega/ADK R2 and oldest with two jumpers.
Sold assembled and tested. It will take just weld the connector strip of the shield.
Size: 70mm x 55mm x 10mm 2.7 "x2.1" x0.4 "
This card uses the I2C addresses between 0 x 60 - 0 x 80 selectable by soldering.
Documentation
Tutorial and libraries: Adafruit Motor Shield V2 for Arduino
Accessories
A small motor with reducer to learn the stepper motors.

The perfect pack for arduino shield.

A small 5V with reducer engine to learn the stepper motors.