Skinny Wheel for TT DC Gearbox Motors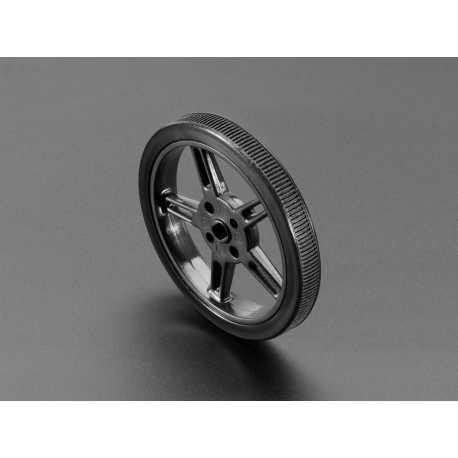 Skinny Wheel for TT DC Gearbox Motors
ADA 3757
data-lang="en">
A fine deale wheel for TT engines.
Customers who bought this product also bought:
More info
Plastic gear motors (also known as'TT' motors) are an easy and inexpensive way to get your projects moving. But we noticed that there are not many nice TT motor wheels to accompany them.

This TT DC motor wheel is solid, but thin, so it won't make your robot bulky.each control comes with a wheel, a silicone tire and a small Phillips screw to make the connection super fast and easy. Although it looks like our DC servo wheel, this wheel is only intended for use with'TT' DC motors!
Features
Diameter without rubber tire: 55.9mm / 2.2"
Diameter with rubber tire: 59.8mm / 2.3"
Weight with rubber tire: 11.7g / 0.4oz
Screw length: 8.6mm / 0.3"