Motor DC DRV8871 - 3.6 A Max driver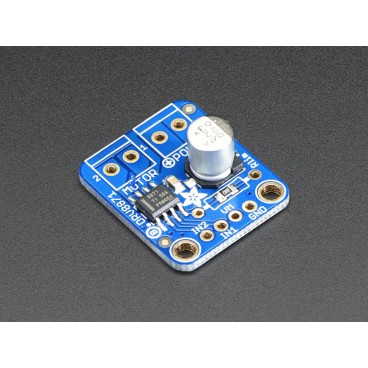 Customers who bought this product also bought:
More info
Description
Launch you into Robotics with this powerful engine DRV8871 driver. This engine driver has features impressive to use varied in Mechatronics. In particular, the limitation of current through resistance and the auto-magic PWM function that allows to use it simply with most Motors continuous.
Here are some features:
Power of engines of 6.5V to 45V
Logic level up to 5, 5V on pine trees IN
565mΩ of typical rDS (on)
Current peak up to 3.6 A
PWM control
Limitation/control current by resistance online
Blocking sous-voltage
Surcourant protection
Thermal protection
The use is very simple. Connect your motor on the OUT terminals. Feed editing between 6, 5V and 45V on Terminal VMotor based on the voltage supported by your engine. And fly the H-bridge with the inputs IN1 and IN2, including PWW.
You can limit the current output with an external resitance Rlim. Basic uen 30K resistor allows a limitation to 2A, but you can change it.
Each ets module sold assembled and tested with 2 Terminal screw 1 X 2 and and a male connector 1 X 6 not welded.
Features
Dimensions: 24.4 mm x 20.4 mm x 9.7 mm / 1.0 "x 0.8" x 0.4 "


Weight: 2.2 g / 0.1 oz
Documentation