TT Motor All-Metal Gearbox - 1:90 Gear Ratio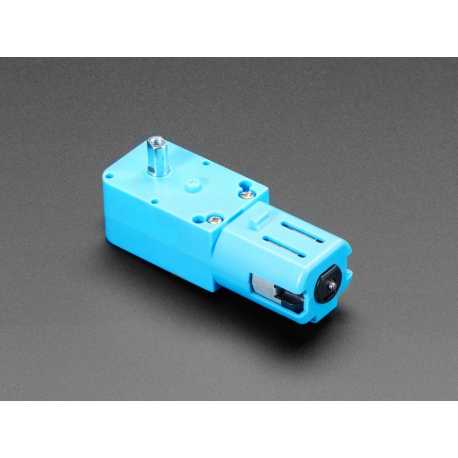 TT Motor All-Metal Gearbox - 1:90 Gear Ratio
ADA 3802
data-lang="en">
A "TT Motor" type geared motor all-metal
Customers who bought this product also bought:
More info
These durable (but affordable!) gear motors (also known as'TT motors') are an easy and inexpensive way to get your projects moving. It is a bimetallic TT DC motor with a gear ratio of approximately 1:90, twice the standard 1:48 ratio. This gives them a higher torque but a slower rotation speed. Since they are slower, they are good for robots where strength is more important than speed.

They look a lot like our all-plastic yellow engines, but they have all the power of machined steel geared motors, so they don't strip out as easily, and they are twice as slow (and twice as powerful) given their lower gear ratio. Metal gears also mean that they are noisier when they run.

You can power these motors with 3VDC up to 6VDC, they will of course go a little faster at higher voltages. We took an engine and found these statistics by running it from a stabilized power supply.
At 3VDC we measured 80mA @ 60 RPM no-load, and 0.5 Amps when stalled
At 4.5VDC we measured 90mA @ 90 RPM no-load, and 0.8 Amps when stalled
At 6VDC we measured 100mA @ 120 RPM no-load, and 1.0 Amps when stalled
Note that these are very basic motors, without integrated encoders, speed control or position feedback. Tension in, rotation out! There will be variations from engine to engine, so a separate feedback system is needed if you need precision motion.

Delivered individually by order, with only the motor + wires. You cannot drive them directly from a microcontroller, a high current motor driver is required! We recommend the DRV8833 for these motors, as it works well up to 3V and can be configured with current limiting as stall current on these motors can be high.

We have a range of wheels, add-ons and accessories for these engines so you can use it as you wish.
Features
Body Dimensions: 70 x 22 x 20,7mm
Weight: 39,4g / 1.2oz