Small motor not not has 12V with reducer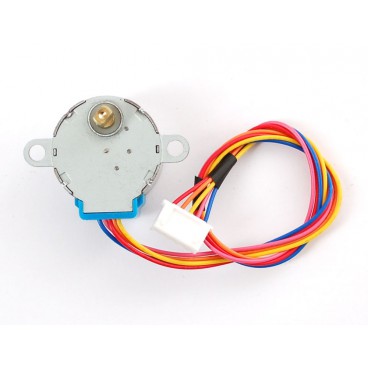 Small motor not not has 12V with reducer
ADA 918
data-lang="en">
A small motor with reducer to learn the stepper motors.
Customers who bought this product also bought:
Sliding scale pricing
| Product | From (qty) | Price |
| --- | --- | --- |
| Small motor not not has 12V with reducer | 10 | 5,45 € |
More info
Description
This little engine not step by step 32 has not, but also a gear 1/16, this allows to get 513 not on a complete revolution of the output shaft.
Features
Unipolar stepper motor with connector 5 pins on 2.54 mm
32 not per revolution of the engine (without reduction)
Reduction to

1/16.025

Between 9V and 12V power
Weight: 37g
Dimensions: Diameter 28mm height 20 mm and 9mm with dietre 5mm shaft
Force at 12V: 25 N * mm
Documentation
Arduino library: Stepper?
Accessories
Shield to control motors current continuous and step by step with an arduino.

A shield of Arduino to control two motors continuous.

A shield of Arduino to control up to 2 stepper motors or 4 Motors continuous and two servo motors.