16mm illuminated ON-OFF button - Orange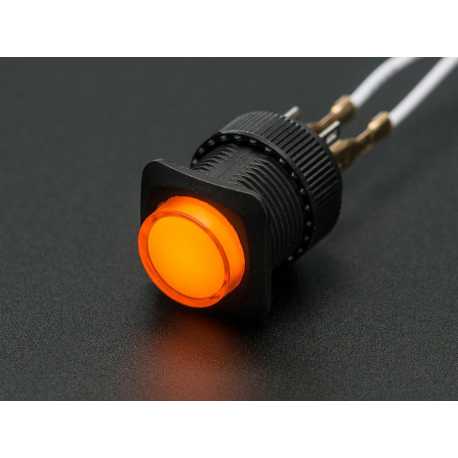 16mm illuminated ON-OFF button - Orange
ADA 1444
data-lang="en">
16mm illuminated ON-OFF button in orange color
Customers who bought this product also bought:
More info
Description
A button is a button, and a LED is an LED, but this LED illuminated button is a beautiful combination of both! It is a medium sized button, big enough to press easily, but not too big either. It has an integrated LED which can be controlled separately from the switch action.

The body is made of black plastic with the LED integrated inside. There are two contacts for the button and two contacts for the LED, marked with + and -. The voltage of the LED is about 2.2V, you will need to connect a 220-1000 Ohm resistor in series just as you would with any other LED to a 3V or higher power supply.

This button has an orange body and LED on the front and is momentary, normally open. The two switching contacts are not connected normally. When you press the button, they will temporarily connect until the button is pressed again. The LED is separated from the button action.
Features


Max. dimensions18.06mm / 0.7 "x 18mm / 0.7" x 29.4mm / 1.15 "/ 0.7" x 29.4mm / 1.15
Body Dimensions: 14.89mm / 0.58 "x 15.56mm / 0.6" x 18.7mm / 0.73 "/ 0.58" x 15.56mm / 0.6 "x 18.7mm / 0.73
Knob height: 5mm / 0.2 "/ 0.2"
Pressed button height: 3.5mm / 0.15 ".
Weight: 4.6 g