Block battery 4xAA with ON-OFF inter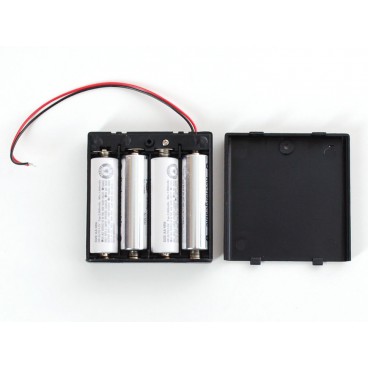 Customers who bought this product also bought:
Sliding scale pricing
| Product | From (qty) | Price |
| --- | --- | --- |
| Block battery 4xAA with ON-OFF inter | 10 | 3,19 € |
More info
Description
This battery will allow you to connect 4 batteries type AA in series to achieve a voltage between 4V and 6V. It has a launch or switch to cut the power.
Using the type NiMH battery, you will have a voltage of 5, 2V full load and 4, 4V end-of-battery, or a nominal voltage of 4, 8V. With alkaline batteries, you will have a 6, 4V at full load and 4V end of battery voltage, either a nominal voltage of 6V.
With recheargeables batteries, the output voltage will be close to 5V, with alkaline batteries, you can add a 1N4001 diode to drop the voltage of 6V to 5, 3V.
Features
Dimensions: 2.5 "x 2.66" x 0.75 "
Cable: 6 "long
Weight: 31.84 g
Accessories
Voltage type 7805 5V regulator

An adapter with DC Jack Power Male 2.1 mm to screw terminal block

Pack of 6 batteries AAA LR03