Adafruit Pro Trinket LiIon/LiPoly Backpack add-on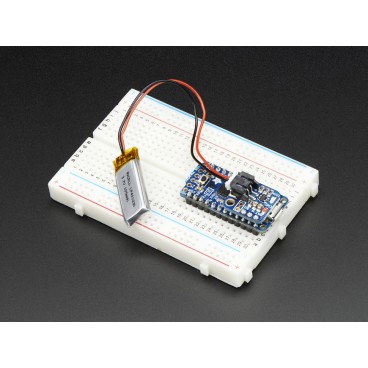 Customers who bought this product also bought:
More info
Description
If you have a trinket Pro, you know that this product is ideal for portable applications. This backPack LiPoly will allow you to simply connect a LiIon/LiPoly battery while managing its load. When you connect the Trinket to a USB, it has fuel and will charge the battery as soon as you unplugged, the battery will take over.
Ideally, this BackPack is designed to work with the Trinket in 3, 3V, battery load voltage will be limited by regulator to 3, 3V, that is does not operate on the 5V Trinket.
To use it, just solder it with extra-long male connector in order to maintain a connection to breadboard. It has 2 LEDS, one red that indicates the load, and a green, indicating a full charge or the use of the battery.
If you want to add a switch, just cut the track between the two pins for this purpose and he will weld a switch.
The load is done in 3 steps:
step 1: load of preconditioning

step 2: load current constant.

step 3: load at constant voltage to maintain full battery. The charge current is 100mA by default, which allows to racharger most of the drums on a USB port, but it is adjustable to 500mA for the battery accepting this load current when welding a stud welding underneath.
Attention: Use this charger with the battery LiIon/LiPoly of Adafruit brand. Other batteries may have a charge voltage, a pinout, a polarity or different chemical composition.
features
Sold assembled and tested without the connector

5V input via connector micro USB of the Trinket

To charge a battery polymer Lithium-Ion/Lithium 3.7 / 4.2V (by old cells 3.6 / 4.1v)

Constant charge current to 100mA, adjustable to 500mA with a simple solder