Adafruit Trinket 5V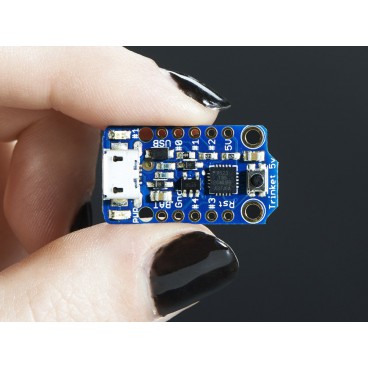 Customers who bought this product also bought:
More info
Presentation
The Adafruit Trinket card is the Atmel ATtiny85 microcontroller-based which allows to reduce the size of the card for the smallest possible embedded applications to maxium.
It is compatible with the Arduino IDE, and it is directly programmable thanks to its mini-USB port.
A header 1 X 16 is provided with this product.
Features
Micro-controller: ATTiny85

Nominal supply voltage: 5V

Consumption: 9mA

GPIO: 5 including 2 shared with USB and 2 capable of PWM and 1 capable analog acquisition

Possibility of acquiring I2C/SPI

Flash memory: 8 KB including 2.75 KB for the bootloader

SRAM: 512 B

EEPROM: 512 B

Clock frequency: 8 MHz to 16 Mhz by software

Connectivity: MicroUSB

Dimension: 31mm x 15.5 x 5mm
Documentation
Adafruit Triket documentation: http://learn.adafruit.com/introducing-trinket
Datasheet of the ATMEL ATTiny 85: http://www.Atmel.com/devices/attiny85.aspx
Data sheet
| | |
| --- | --- |
| Micro-contrôleur | Attiny85 |
| Micro-contôroleur - Horloge | 8MHz ou 16 MHz |
| SRAM | 512 B |
| Flash | 8 kB |
| EEPROM | 512 B |
| Entrées/Sorties numériques | 5 |
| Tension logique (GPIO) | 5V |
| PWM | 3 |
| Entrées analogiques | 1 |
| Alimentation nominale | 5V à 16V |
| Connectique pour chargement | micro USB |