Stackable connectors 36 points - 5 Pack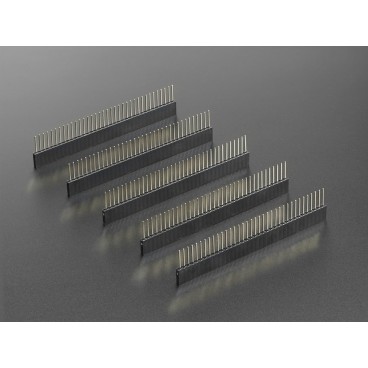 Stackable connectors 36 points - 5 Pack
ADA 3366
data-lang="en">
A pack of 5 stackable connectors 36 points to the pitch 2.54 mm
Customers who bought this product also bought:
More info
Description
Stackable connectors are a little tape of electronics. It allows to link several items, such as maps without limits to hole, development or other cards. Mounted on a sensor, it allow an insert on a breadboard and one can always connect an other cablagle on top with some wires or other stackable connector.
This product is sold by pack of 5 stackable connectors 36 points at 2.54 mm No. You fantastic cut them off at the playtime want with a good cutter and then a little bit of lime flat needle to make it cleaner.
Accessories
Connectors scored for strip Arduino .

The perfect pack for arduino shield.

Connector 26 points 2 X 20 long walk from 2.54 mm ideal for the GPIO of Raspberry PI B +