Stainless steel conductive tape - 5mm wide 1m long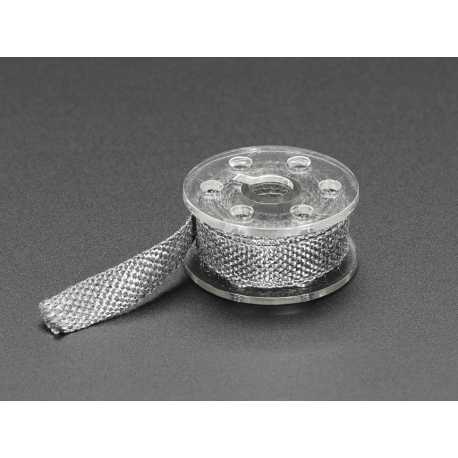 Stainless steel conductive tape - 5mm wide 1m long
ADA 1244
data-lang="en">
Stainless steel conductive tape for your e-textile projects.
Customers who bought this product also bought:
More info
Description
This woven conductive ribbon is ideal for powering many LEDs in a portable project. It is thin, strong, smooth and made entirely of 316L stainless steel. It fits well with our stainless steel wire and is very flexible, just like textile tape.

The easiest way to attach this ribbon is either to slide through a case, or better yet, with zig-zag stitches on top to refine it. Because it is strong and flexible, it is ideal for any portable / e-textile project. It also has a very low resistivity to wire, only 2.6 ohms per foot so you can use it to drive many LEDs and other electronic components that use half an ampere or less.

Because it is made of stainless steel fibers, it won't oxidize like silver: your projects will not "stop working" because of oxidation after a few months and they are sure to wash themselves.

Delivered in a length of one meter.