Adafruit FLORA v3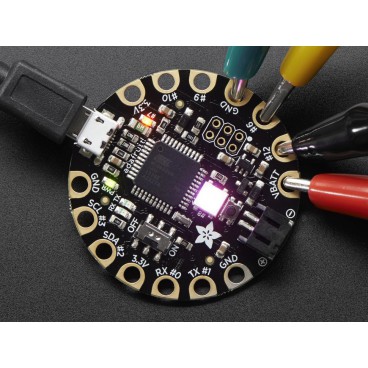 Customers who bought this product also bought:
More info
Presentation
The Adafruit Flora card measures 45mm in diameter.
It has a built-in USB support, which means that it only takes a micro USBpour the program with the Arduino IDE cable. In addition, the map Flora has HID USB support which allows to emulate easily a keyboard or a mouse.
FLORA has has a small button RESET, simple and effective to reboot the system. The power supply has been designed to be flexible and easy to use as a connector of type JST 2 points. This allows to feed the Assembly with a source tension between 3.5V and 16V, all protected by a diode so that the inversion of polarity.
Flora has a switch ON / OFF connected to a 2A MOSFET can switch up to 2A, ideal for cutting the subdistribution by battery, it has also a regulator 3, 3V built-in capable of providing avce unde protection diode 150mA and a fuse USB, c is the microcontroller works in logic 3, 3V.
The designated map Flora was long, because it was necessary to think about flying easily a lot of LED type Neopixel. In the end, it is posible to fly 50 through card and up to 500 with a dedicated power supply.
FLORA map has 4 LEDS (power, Bootloader, RX and TX) and CPSI connector.
It is possible to weld 14 pines from the Adafruit GEMMA, but also sew them with wire to create clothes that are connected.
With V2, a neopixel is integrated on the map and the ets USB port a USB microphone.
With V3, the pad allow support of the crocodile clips.
Features
Micro-controller: Atmega32u4

Nominal supply voltage: 3.5V to 16V

Consumption: 9mA

GPIO: 8 including 3 PWM and 4 capable analog acquisition

Possibility of acquiring I2C/SPI

Flash memory: 32 KB including 4 KB for the bootloader

SRAM: 2.5 KB

EEPROM: 1 KB

Clock frequency: 8 MHz

Connectivity: MiniUSB
Documentation
Documentation Adafruit GEMMA: Getting Started with FLORA
Data sheet
| | |
| --- | --- |
| Micro-contrôleur | ATmega32u4 |
| Entrées/Sorties numériques | 8 |
| Alimentation nominale | 3,5V à 16V |
| Connectique pour chargement | micro USB |