With filter IR and white LED - TCS34725 RGB color sensor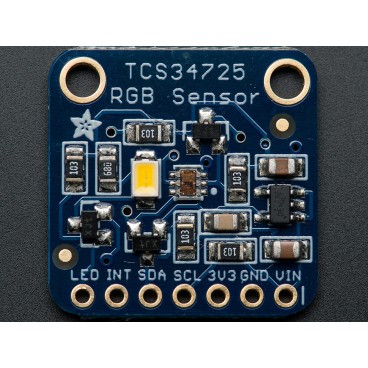 Customers who bought this product also bought:
Sliding scale pricing
| Product | From (qty) | Price |
| --- | --- | --- |
| With filter IR and white LED - TCS34725 RGB color sensor | 10 | 8,59 € |
More info
Description
Using this sensor, your electronic assemblies will be able to determine the color of an object very simply. This module uses the best sensor of color of the market, the TCS34725, which has a RGB recognition and clear light. A built-in IR (infrared) filter allows you to limit the disruption of the infrared light emitted by the surrounding light and allows so accurate a measurement of the color of the object nearby. This filter means that the sensor will determine such human eye color would do it. The sensor has a dynamic range exceptional avecun ratio of 3,800,000:1 with a variable integration time and gain adjustable, ideal to perform a measurement behind an opaque glass.
The module has a regulator 3, 3V integrated, which allows to supply it with 5V or 3V safe, the sianux of the I2C bus are also suitable for work as much in 3V3 and 5V. A neutral LED lighting with a temperature of 4150 ° K has been added on the module to illuminate the object to analyze, this LED is driven with a Mosfet to activate or disable easily with a simple logic pin.
This module uses an I2C to be connected to an Arduino microcontroller bus or a Raspberry PI card for example.
Features
Weight: 3.23 g
Dimensions: 20.44 mm / 0.8 "x 20.28 mm / 0.79"
This card uses a bus 7-bit I2C with address 0 x 29.
Documentation
Arduino library: Adafruit_TCS34725
Tutorial of use: Color Sensors Measure Light and Color with Adafruit TCS34725 Color Sensors