Flanged Weatherproof Enclosure With PG-7 Cable Glands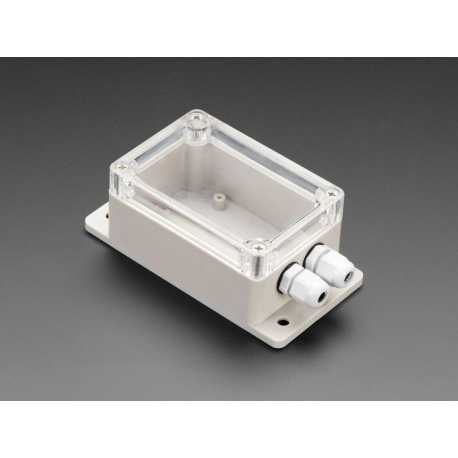 Flanged Weatherproof Enclosure With PG-7 Cable Glands
ADA 3931
data-lang="en">
A weatherproof housing with PG-7 cable glands.
Customers who bought this product also bought:
More info
Whether you are looting graves or crossing nuclear wastelands, this is the most robust enclosure for your project! Weatherproof? Check. Robust polycarbonate cover? Check. Integrated gasket? Oh yeah, that's good.

Store your project safely in this weatherproof flange housing. We particularly like the machinable ABS plastic body, the four fixing holes and the easy to open screws that can be removed as many times as you like without cracking. It's a bit like our other waterproof housings, but with mounting flanges with holes for easy mounting. It also has two PG-7 cable glands (! They allow weatherproof cables to enter and exit the housings with seals that prevent dust from entering and exiting. This size is good for cables with a diameter of 0.118" - 0.169".

The case measures 100 x 68 x 36 mm on the outside. You can install an Adafruit Metro, Raspberry Pi Zero, Feather or Perma-Proto half size, but it is not suitable for larger Raspberry Pi's with USB and Ethernet connectors.

Technical details

Mounting hole diameter: 6mm
Distance from center to center: 42mm
Cable glands of size PG-7
Accessories
A small case with transparent lid for your projects.

A large case with transparent lid for your projects.

A PG-9 size gland for your wetland projects.