Magnetic contact switch (door sensor)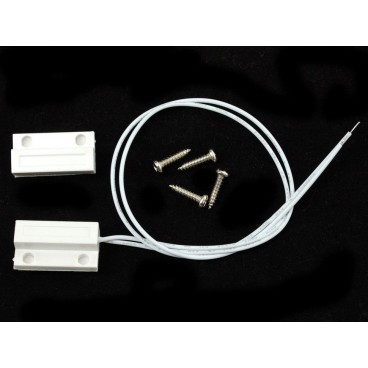 Customers who bought this product also bought:
More info
Description
This sensor is a contactor to blades wrapped in an ABS housing. Normally, the blades are open (there is no connection between the two sons). The second part is a magnet. When the magnet is less than 13 mm (0.5 ") of the sensor, the blades are closed. This sensor is often used to detect an open door or window, that's why he has a support Assembly and screw. It is also easy to fix them with Scotch double-sided.
Features
Contact magnetic type "reed switch" normally open
Housing ABS
Current: 100 my max
Voltage: 200 VDC max
Distance: 15mm max
Dimensions:

Each item: 29mm x 14mm x 9mm / 1.1 "x 0.6" x 0.4 "

Cable length: 305mm ± 12mm / 12 "± 0.5"
Weight (each): 5.4 g
Accessories
A motion detector PIR to a range of 7 m on 120 ° with settings.