2.1mm DC Power Jack with ROcket Switch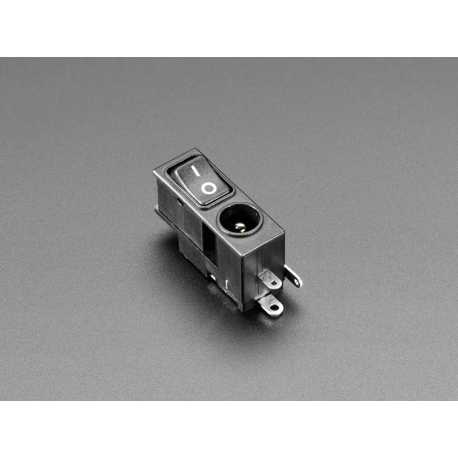 2.1mm DC Power Jack with ROcket Switch
ADA 3643
data-lang="en">
A 2.1mm Power Jack soldering connector with integrated rocket switch.
Customers who bought this product also bought:
More info
Description
This brilliant invention is a blessing for manufacturers who design or use cards with standard 2.1mm DC jack. Many appliances require an appropriate power switch for size, cost or other design reasons. Therefore, you are expected to unplug the plug when not in use. But you want something a little more whimsical! This 2.1 mm DC power socket with rocket switch has the same PCB layout as conventional non-switched sockets, but has a slide switch!

The rocket switch does exactly what you expect: Plug in your power supply (up to 15 VDC, 2,5A) and turn the unit on and off. On and off! On and off every day.
Features
Electrical power: 15VDC 2,5A
Contact resistance: max. 20 mohm
Insulation resistance: 1000 Mohm min.
Lifetime: 6,000 cycles
Contact material: Silver-plated copper alloy
Switching circuit: SPDT
RoHS Compliance: Yes
Product Dimensions: 28.0mm x 16.8mm x 8.9mm / 1.1" x 0.7" x 0.4"
Product weight: 3.0g / 0.1oz