DC Power 2.1 mm male to terminal block adapter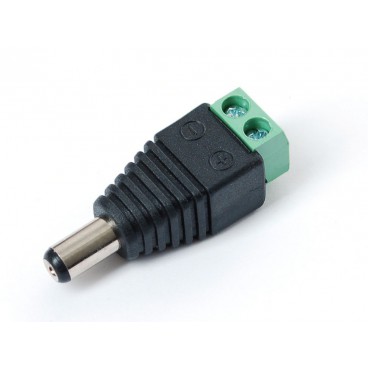 DC Power 2.1 mm male to terminal block adapter
SGKADA 369
data-lang="en">
An adapter with DC Jack Power Male 2.1 mm to screw terminal block
Customers who bought this product also bought:
Sliding scale pricing
| Product | From (qty) | Price |
| --- | --- | --- |
| DC Power 2.1 mm male to terminal block adapter | 10 | 2,16 € |
More info
Description
This adapter is ideal for connecting a battery or an external power supply to a timeline requiring a connection into DC Power 2.1 mm as most of the Arduino example. We find a connector male DC Power 2.1 mm on one side and a Terminal screw on the other side.
The terminal block screw is spotted with the inscription + and - to identify the polarity of the plug + inside - and outside, what the case more generally used with this type of plug.
Accessories
The Arduino UNO card is the best seller from Arduino. Simple, effective and cheap.

An adapter with DC Jack Power female 2,1mm to screw terminal block