Adafruit MiniBoost 5V - 100mA Charge Pump - AP3602A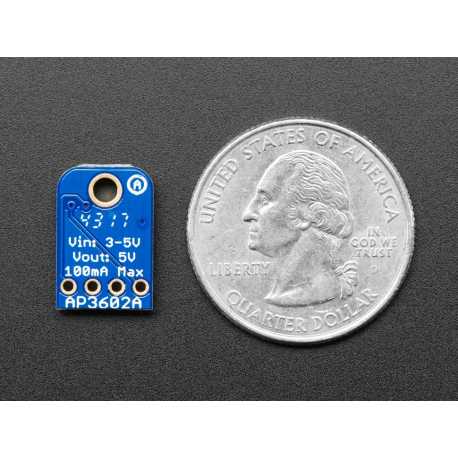 Customers who bought this product also bought:
More info
Description
This adorable little circuit will be very handy every time you need a small amount of 5V. It's the size of a linear regulator, but it's actually a mini booster! 3V input on one side, and 5V up to 100mA power supply on the other side. Perfect for battery-powered projects with 2 or 3 alkaline batteries or a single lithium battery. For large projects, you may need a PowerBoost card that can provide 500mA-2A of power.

This booster uses a topology of charge pump, which makes it very compact and economical. But it is not as efficient as a choke-on-converter. The charging pumps always double the input voltage and then adjust downwards. Ideal for cases where you don't count the coulombs - or when your current print run is not terribly high.

This breakout is fully assembled with an AP3602A with a non-welded connector. Power the 3-5VDC power supply to the IN and ground pins. Then you will have 5V on the OUT pin. The enabling pin can be pulled down to deactivate the output.
Features
Product dimensions: 15.0mm x 10.0mm x 3.0mm / 0.6" x 0.4" x 0.1".


Product weight: 0.6g / 0.0oz