PowerBoost 500 Basic - Boost USB 5V - 500mA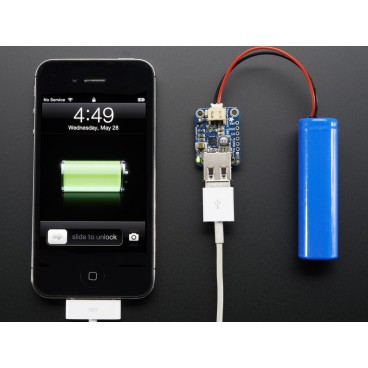 Customers who bought this product also bought:
More info
Description
This module PowerBoost 500 will make all of your portable DIY projects. This small voltage DC converter / DC can convert 1, 8V or higher in 5, 2V to power all your 5V projects. 5, 2V is ideal, because it will allow you to avoid line losses, or even make possible adding a protection diode. It will provide carefree, an ARduino or card Raspberry PI.
The Power Boost module is designed around the TPS61090 circuit which is an excellent converter of tension with some features to remember:
Possibility to activate lou off the output through the pine IN
Switch internal 2A (2.5 A peak) to generate example 500mA with a source 1, 8V, 750mA with two NiMh batteries or alkaline batteries, or even 1000mA battery LiIon/LiPoly 3, 7V.
Indicator low battery led when the input voltage is end below 3, 2V, ideal for the LiIon/LiPoly 3, 7V batteries
Charges to 500mA with resistances of data included in the USB connector USB (provided) ideal to charge an Iphone or Ipod (not for an Ipad)
Pines of battery available in addition to the JST connector
90% of output.
Attention: Use this PowerBoost with the battery LiIon/LiPoly of Adafruit brand. Other batteries may have a charge voltage, a pinout, a polarity or different chemical composition.
Features
Sold to a USB connector to solder (optional)

Dimensions: 28mm x 22mm x 2mm / 1.1 "x 0.9" x 0.08 "
Height w / JST: 7mm / 0.3 "
Weight: 3g
Accessories
JST 2 pins hold the steps of 2mm with a length of 100mm.