3, 3V 600mA - LM3671 3.3V voltage regulator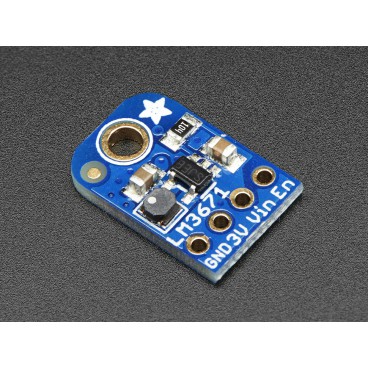 Customers who bought this product also bought:
More info
Description
This module is ideal for editing your low-voltage 3, 3V to leave a Li-ion battery or a 5V as a USB port. It allows to power 3, 3V a load up to 600mA from a tension between 3, 5V and 5, 5V. It is compatible with the level of the pine with the LM1117 circuit - 3.3V in case TO-220, so he can easily replace it but with a better performance (90 to 95%). There is also an ENable pin, which allows you to easily control your diet to turn it off, for example.
It has a mode of operation fixed at 2 MHz PWM and PFM to lengthen the life expectancy of the battery when the load is low or for standby operation.
Sold fully assembled and tested with a 1 X 6 male plug not welded.
Features
Weight: 0.9 g
Size: 16mm x 10mm x 3mm / 0.6 "x 0.4" x 0.1 "
Accessories
A breadboard of medium size perfect for your temporary electronic assemblies.

Breadboard - Platinum test 830 contacts.