Adapter Jack 4 3.5 mm male to Terminal contacts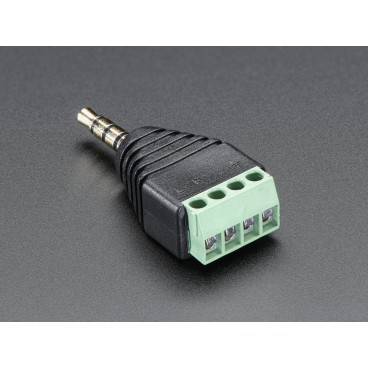 Adapter Jack 4 3.5 mm male to Terminal contacts
ADA 2914
data-lang="en">
An adapter jack 3.5 mm 4 pole TRRS to terminal block screw 4 points.
Customers who bought this product also bought:
More info
Description
When working with audio, still need us cable or the ideal adapter in our car to tools. That's why we love this product. No welding is required. Use soft key or rigique with a screwdriver and you can create your own audio endpoint.
He is a jack 3.5 mm (1/8 ") 4-Pole (TRRS) with a Terminal screw. the acronym TRRS means Tip, Ring, Ring and Sleeve. It has 4 drivers, 3 for the signals and 1 for the mass, this connector is often used on smartphones to perform audio in stereo and a channel for the microphone. On the RAspberry PI, the fourth driver is used to convey the composite video signal.
Features
Total length: 40mm / 1.57 "
Weight: 6.5 g