Linear SoftPot (Ribbon Sensor) - 100mm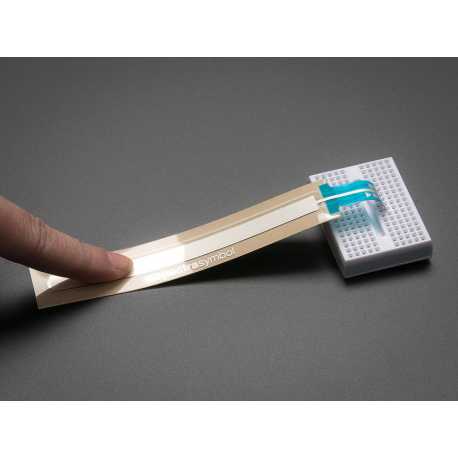 Linear SoftPot (Ribbon Sensor) - 100mm
ADA 178
data-lang="en">
A straight-line tactile potentiometer.
Customers who bought this product also bought:
More info
Description
Manufactured by Spectra Symbol, they are pretty little tape controllers (also called "soft potentiometers") with an adhesive backing.

There is a nominal resistance of 10K on both outer wires. The resistance of the central pin to one of the two outer pins varies depending on where the strip is pressed. When no pressure is applied, the middle axis floats, so be sure to use a low pullup resistance, such as 100K ohm.

To use it, connect a side pin to earth via a 10K resistor in series. Connect the other side pin to your DC power supply (3V, 5V etc.) via a different 10K resistor in series. Then read the analog voltage on the center spindle. It ranges from 1/3 Vdc to 2/3 Vdc. Do not connect directly to ground and power supply!
Features
Length: 140.6mm/5.54in
Width: 20.50mm/0.81in
Thickness: 0.58mm/0.023in
Weight: 1.68g/0.06oz