Mini Panel Mount SPDT Toggle Switch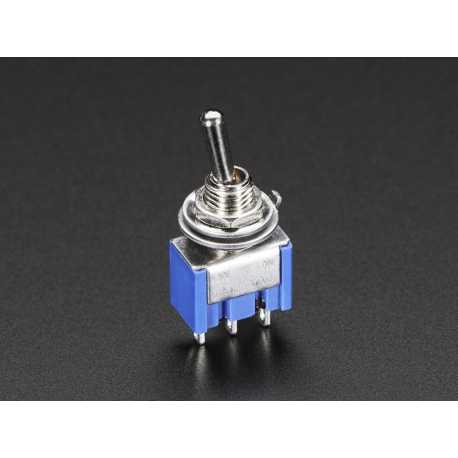 Mini Panel Mount SPDT Toggle Switch
ADA 3221
data-lang="en">
Miniature SPDT rocker switch ideal for panel mounting
Customers who bought this product also bought:
More info
This or that, one or the other, perhaps or perhaps not! So hard to make decisions these days without feeling like you're just going back and forth constantly. Deciding whether or not to use this mini toggle switch? That's the easiest decision you'll make all day!
This Mini Panel Mount SPDT Toggle Switch is great for any project where you have two options to select between. Maybe you'll be selecting between two voltages? Two audio outputs? Two sensor inputs? It's up to you! It's short, sweet, blue, and to the point! The part is marked at 6A 125VAC but we haven't tested it at such high current/voltages and don't recommend it for more than 1A at 24V.
Features
SPDT 3 Terminal ON-ON 2 - Position Latching Toggle Switch.
Each switch is assembled with two hex nuts, a flat and a locking washer.
Easy installation, fits into any 6mm hole.
Product Dimensions: 32.9mm x 13.1mm x 12.0mm / 1.3" x 0.5" x 0.5"
Product Weight: 5.0g / 0.2oz
Accessories
Ideal switch to function ON / OFF or change of polarity.

A Zippy Premium micro-switch for making limit switches or other applications.