Short Flex Sensor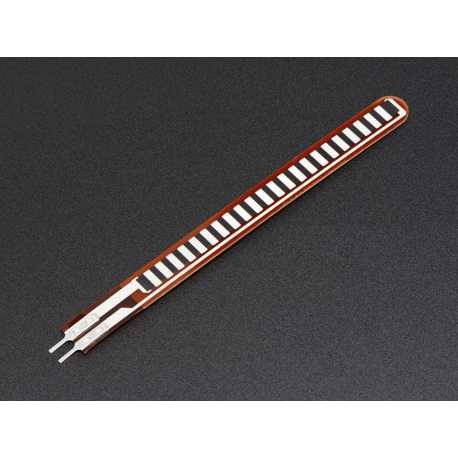 Short Flex Sensor
ADA 1070
data-lang="en">
A short bending sensor is very easy to use.
Customers who bought this product also bought:
More info
Description
This sensor can detect flexion in one direction. They have been popularized by being used in Nintendo PowerGlove as a game interface.

These sensors are easy to use, they are like a resistance that changes in value according to their flexibility. If they are loosened, the resistance is about ~25K? When bent throughout the race, the resistance rises to ~ 100K?. They are quite similar to FSR. You can use an analog input on a microcontroller (with pullup resistor) or a digital input with the use of a 0.1uF capacitor for RC delay.

The lower part of the sensor (where the pins are crimped) is very delicate, make sure to tighten or glue this part so as not to remove the contacts!
Caractéristiques
Length: 77.57mm/3.054in
Width: 6.41mm/0.2525in
Thickness: 0.48mm/0.019in
Weight: 0.27g/0.0095oz
Accessories
A resistive sensor round to measure a force, a weight or physical pressure.

A conductive foil pressure ideal for making a pressure e-textile sensor sensitive.