Peristaltique pump 12V for liquid with silicone tubes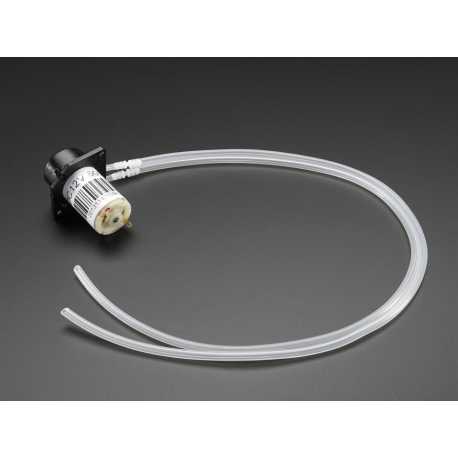 Peristaltique pump 12V for liquid with silicone tubes
ADA 1150
data-lang="en">
A peristaltique pump to move fluids with silicone tubes.
Customers who bought this product also bought:
More info
Description
Move easily with this small pump fluids. Unlike most liquid pumps, Peristaltic type - is the pump crushes the silicone tube that contains the liquid rather than push it directly. The final result? The pump never touches the fluid, making it an excellent choice for any pumping food / drinks / sterile, as to make robots bartenders or gardening robots!
The pump is essentially a DC gear motor, in order to have plenty of torque. Inside of the pump is a pattern of rollers style "clover". As the engine is running, clover uses the tube to press the fluid. The pump does not need to be primed and can self-Prime with water about half a meter easily. You can use the engine to speed up or slow down the flow and, if reverse you the motor, the fluidese move in the other direction. Works well with a power transistor (in on / off Basic) or with an as the L293D motor driver.
Note: The pump is equipped with a set of already installed silicone hoses and two sets of 1/2 meter fixed on tips. Beware, the silicone tube is not sterile. Before using, the tube must be sterilized! The included tubes do not conform either to the medical standard and are intended only to base of the pump tests.
Features
Tube 4 mm of outside diameter and 2 mm sweep, about.
Working temperature: 0 ℃ - 40 ℃
The motor voltage: 12VDC
Motor current: 200-300mA
Flow: up to 100 ml / min
Weight: 200 grams
Dimensions: 27 mm diameter engine, total length of 72 mm

Mounting holes: 2.7 mm in diameter, distance from Center to center of 50 mm
Accessories
The SN754410 allows to control easily one engine with a Arduino .

A flow sensor with thread 1/2 "plastic.

An engine to cournat continuous size 130 with a power supply between 4, 5V and 9V DC.