NeoPixel Ring with 16 LED RGB LED and driver integrated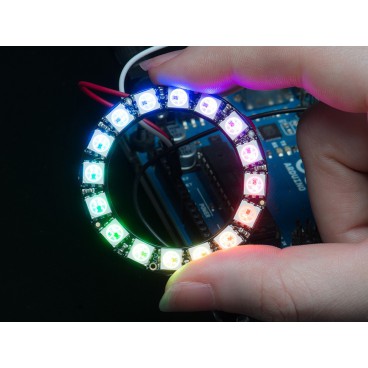 NeoPixel Ring with 16 LED RGB LED and driver integrated
ADA 1463
data-lang="en">
A ring composed of 16 RGB LED for the most crazy project!
Estimation de livraison entre le 04/10/2022 et le 06/10/2022
Colissimo Domicile - sans signature

A partir de: 5,45 €
Customers who bought this product also bought:
Sliding scale pricing
| Product | From (qty) | Price |
| --- | --- | --- |
| NeoPixel Ring with 16 LED RGB LED and driver integrated | 10 | 10,75 € |
More info
Description
This ring of 44.5 mm diameter is composed of 16 LED RGB WS2815 5050 with a built-in driver.
The ring are chainable between them, simply connect the output of a ring at the entrance to the next. So just one micro-controller to control a series of NeoPixel ring. Each RGB LED has of are own controller to operate independently. Each LED consumes about 18mA enn cournat constant, this allows to have a perfect color even if the voltage varies slightly.
The Ring NeoPixel works nominally 5V, but limits are between 4V and 7V.
Features
Accessories
The Arduino UNO card is the best seller from Arduino. Simple, effective and cheap.