Cable Audio Jack 3.5 mm Male/female for panel mounting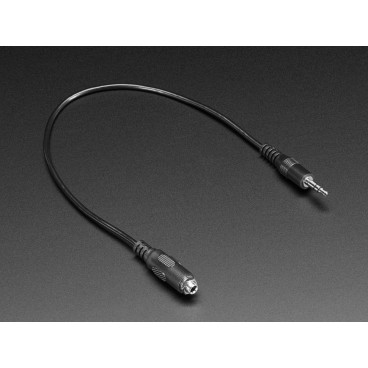 Cable Audio Jack 3.5 mm Male/female for panel mounting
ADA 3319
data-lang="en">
A cable Audio Jack 3.5 mm Male/female to deport the audio on a boiteir.
Customers who bought this product also bought:
More info
Description
This extension cable is ideal for deporting an input or output audio setereo on a case. Just drill a hole of 0.25 "(6, 35mm) on a surface less of 0.1" (2, 54mm) for frames the female base and so deport the audio on the other end male.
This cable is ideal for deporting a headphone jack, a microphone or any other peripheque which has a 3.5 mm jack plug.
Features
Cable length: 13 "(330mm)
Stereo audio jack standard 1/8 "(3.5 mm)
Mounting on a surface less 0.1 "(2, 54mm) thick
Weight: 11.4 g / 0.4 oz
Accessories
An adapter jack 3.5 mm 4 pole TRRS to terminal block screw 4 points.

A Jack 3.5 mm TRRS male plug 4-pole to achieve your audio cables...