Jack 3.5 mm TRRS male plug 4-pole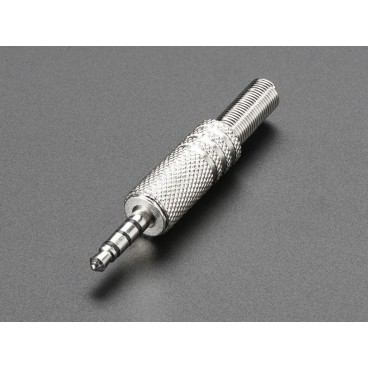 Jack 3.5 mm TRRS male plug 4-pole
ADA 1799
data-lang="en">
A Jack 3.5 mm TRRS male plug 4-pole to achieve your audio cables...
Customers who bought this product also bought:
More info
Description
Reparezr or design your own audio cable with this jack plug! It is robust with a metal body and a protected and flexible cable by a system of eressort metal tip. Just just solder the wires on the connector to get a quality audio cable.
It is a 3.5 mm (1/8 ") 4-Pole (TRRS) jack, the acronym TRRS means Tip, Ring, Ring and Sleeve. It has 4 drivers, 3 for the signals and 1 for the mass, this connector is often used on smartphones to perform audio in stereo and a channel for the microphone. On the Raspberry PI, the fourth driver is used to convey the composite video signal.
Features
Length of the Jack: 16mm / 0.6 "
Length of the spring: 18mm / 0.7 "
The case length: 23mm / 0.9 "
Weight: 5.4 g
Accessories
An adapter jack 3.5 mm 4 pole TRRS to terminal block screw 4 points.