Amplifier I2S 3W class D - MAX98357A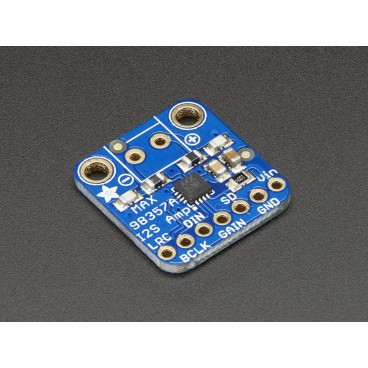 Customers who bought this product also bought:
More info
Description
Good news, this digital amp audio works perfectly with the Raspberry PI cards! If you are looking for a medium easy and cheap to give power to your audio file, this amplifier I2S at base of MAX08357 is perfect. It takes as input a digital audio signbal IS, and it decodes analogue and amplifies it directly for a speaker. Perfect for adding an amplified audio output.
The i2S Protocol (not to be confused with the I2C) is a digital audio proocole ets used on audio circuits to transmit the audio signal from circuit to circuit. Many circuits and processors use the I2S Protocol. To convey audio information, 3 or 4 pins are needed (Data in, Data out, Clock and selection of the left or right channel). Usually, for devices audio, there is a circuit i2S who converted the I2S in analog to drive headphones or another signal.
But this circuit there has of are own amplifier, capable of driving 3.2W of power into a 4 ohm impedance speaker (5V power @ 10% THD). The integrated amplifier is class D, capable of running between 2, 7V DC and 5, 5V DC. The fact that he is in class D make this amplifier, an efficient and perfect amplifier for portable applications running on battery. It has sur-courant and thermal protection built-in, but it can still become very hot.
The audio in to the I2S format can be used in logic 3, 3V or 5V... The outputs are "Bridge Tied", which means that you can connect them directly without the mass. the output is a square PWM output at 300 KHz, which is enough for a small speaker, but the frequency treble will be not audible. You will not be able to connect the output of this module on the entry of a second amplifier, it must directly drive a speaker.
A pin allows you to epiloter gain, by default, it ets to 9dB. But by connecting this pin to pullup or pulldown resistors, you can gain of 3dB, 6dB, 9dB, 12db, or 15 dB.
A pin allows you to umettre standby module or to select the channel. By default, the module is set up to play a mix of left and right channels on a mono output. By adding resistance, it is possible to change this value.
It works perfectly with Raspberry PI or Genuino Zero cards and the other micro-controller with I2S output.
Features
Power output; 3, 2W 4 ohm, 10% THD, 1, 8W at 8 ohm, 10% THD with a 5V power supply
PSP: 77 db typ @ 1 kHz
I2S sampling of 8 kHz to 96 kHz
MCLK not necessary
Reduction of the click and POP
5 selectable gain: 3db, 6dB, 9dB, 12db, and 15 dB
Built-in thermal protection
Dimensions: 19.4 mm x 17.8 mm x 3.0 mm / 0.8 "x 0.7" x 0.1 "
Weight: 1.2 g
Sold tested and assembled with a non welded header connector and terminal block screw not welded.
Documentation