Adafruit FPC Stick - 20 pine Pitch adapter 0.5mm/1.0mm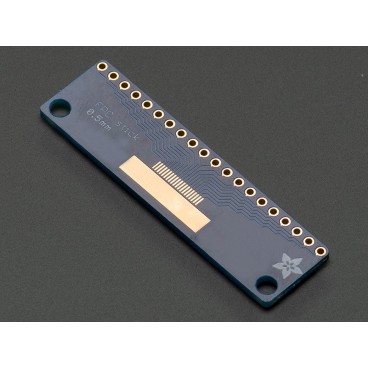 Customers who bought this product also bought:
More info
Description
Easily connect your connector to the steps of 0, 5mm, 1 mm and even 2mm with this FPC Stick. This product has been specially developed to easily connect the FPC Connector. On one side, you will find long pads at the steps of 0.5 mm and the other connections are distributed on a connector to the steps of 2.54 mm. You can thus use the ZIP and Snap connectors for prototyping in a simple way.
The product is sold in the form of a PCB with a facing the no 0.5 mm and the other at no 1 mm, no connector is included.
Features
Size: 13.98 mm / 0.55 "x 50.85 mm / 2"
Weight: 2.10 g
Accessories
A circuit to adapt a component SMT (or CMS) QFN32 or TQFP32 DIP format.

This adapter allows to connect almost any type of cable FPC/Flex up to 40 points.