Pressure-sensitive conductive foil (Velostat / Linqstat)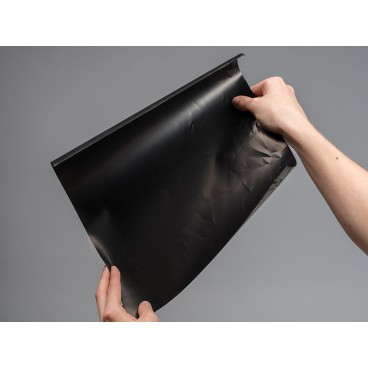 Pressure-sensitive conductive foil (Velostat / Linqstat)
ADA 1361
data-lang="en">
A conductive foil pressure ideal for making a pressure e-textile sensor sensitive.
Customers who bought this product also bought:
Sliding scale pricing
| Product | From (qty) | Price |
| --- | --- | --- |
| Pressure-sensitive conductive foil (Velostat / Linqstat) | 10 | 5,94 € |
More info
Description
This conductive material (also known as "Velostat" or "Linqstat") is an indispensable accessory for making your own pressure sensors. This material is sensitive to pressure, just press it to reduce its strength. It is also much more economical than most other pressure sensors.
It is sold by piece of 28 cm x 28 cm, and with a thickness of 0.1 mm. The leaf is sold folded in 4 to facilitate his expedition, some fold may therefore appear and it will place the flat sheet in a book or other to mitigate the hard folds.
Features
Size s: 11 "x 11" (280mm x 280mm)

Thickness: 4 mil / 0.1 mm

Weight: 18.66 g

Temperature limits:-45 ° C to 65 ° C (-50 ° F to 150 ° F)

Heat sealable: Yes

Volume resistivity: < 500 ohm - cm

Surface resistivity: 31,000 ohms / sq.cm
Accessories
A coil of thin wire 2 strands to achieve electronic sewing e-textile.

A coil of thin wire 3 strands to achieve electronic sewing e-textile.