ADS1115 16-bit 4-channel with PGA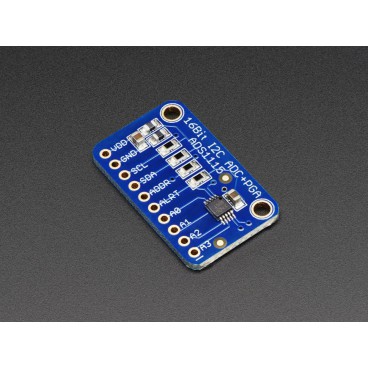 Customers who bought this product also bought:
More info
Description
If you have a microcontroller that has no analog-to-digital converter (ADC or CAN) or if it is not precise enough, this module based ADS1115 is perfect for you because it allows the acquisition of 4 analog channels with a prcission of 16 bits and up to 860 samples per seconds through an I2C link. It is possible to configure the ADS1115 to acquire analog 4-way or 2-way differential.
The gift bonux of this converter, is that it has a built-in PGA, a programmable gain amplifier, which can multiply up to 16 a somewhat low entry to cover the maximum of the measurement range. At the feed level, it can be powered with 2V, 5V, and the logic of the signals also.
The circuit is welded on a map of breakout with a filter integrated on food to avoid disrupting the measures. The interface is carried out in I2C and the address can be changed in strappant the ADDR pine. Can be mounted to the max, 4 ADS1115 modules on a single I2C line.
Features
Wide supply range: 2.0V at 5.5V
Low consumption: Continuous Mode: only 150µA Single-Shot Mode: Auto Shut-Down
Sampling rate: 8 echantilons per second to 860 echantilons per second
Internal reference voltage
Internal oscillator
Internal PGA
Interface I2C: 4 addresses selectable
4 entry into SINGLE-ENDED or two differential inputs
Programmable comparator
This module uses the addresses 7-bit I2C between 0 x 48-0x4B, selectable by jumper.
Documentation
Example code for Raspberry PI: Adafruit_ADS1x15
Library and example for Arduino: Adafruit_ADS1X15