Analog 2-axis Thumb Joystick with Select Button + Breakout Board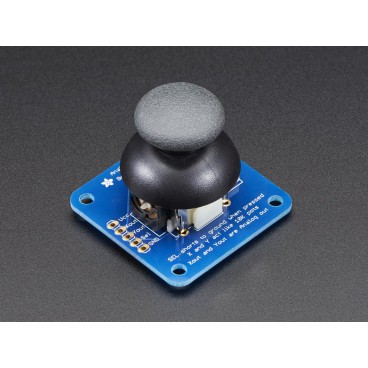 Analog 2-axis Thumb Joystick with Select Button + Breakout Board
ADA 512
data-lang="en">
One analog thumbstick with validation for your DIY projects.
Estimation de livraison entre le 10/08/2022 et le 12/08/2022
Colissimo Domicile - sans signature

A partir de: 5,45 €
Customers who bought this product also bought:
More info
Description
This mini kit allows you to easily add a thumb joystick to your project. The thumbstick is analog, which is much more accurate and sensitive joystick as a directional joystick and it has validated. Therefore, you must have two analog on your microcontroller inputs and a digital input to use.
The product is sold in three parts: the joystick, one-piece plastic handle and the map breakout. Therefore solder it on the map breakout.
Features
Dimensions : 1.5 "wide x 1.5" length x 1.25 "height (Assembly)
Weight: 12 grams (0.4 oz)
Nutrition : Can be used with any voltage up to 5V, 2 outputs analog. 1 my 5V
Accessories
A Mini Thumbstick 2 axes analog to acquire a shift in X and Y.

A map breakout for the Mini Thumbstick 2 analog axes.