Vibrating Mini Motor Disc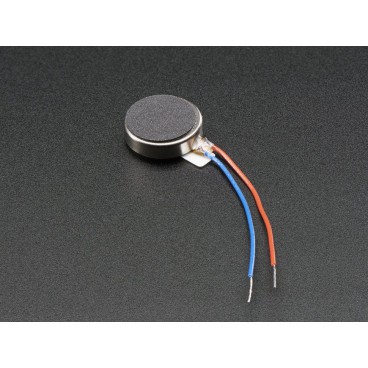 Vibrating Mini Motor Disc
ADA 1201
data-lang="en">
A mini motor vibrator for haptic projects.
Customers who bought this product also bought:
Sliding scale pricing
| Product | From (qty) | Price |
| --- | --- | --- |
| Vibrating Mini Motor Disc | 10 | 2,11 € |
More info
Descritption
This small vibrator motor is ideal for a project with reour haptic. Totally incapsulé in a metal disc, it will be easy to use and ship.
Two shims allow to feed it and manage the power of vibration (blue for negative and red to the positive). It works between 2V and 5V, the voltage will be high, the more the vibration.
If you want to decrease the power to fly directly using an Arduino pin, you can put a 100 ohm resistor in series to 1 kohm, but it is rather advisable to use a transistor.
Features
Dimension: 10mm diameter 2.7 mm thick
Current supply: 2V - 5V to 5V: 100mA.

current at 4V

: 80mA.

current at 3V

: 60mA.

2V power

: 40mA
11000 RPM to 5V
Weight: 0.9 gram